Solar System for Pool Heating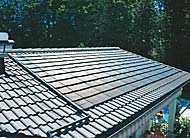 The solar swimming pool absorbers consist of TPE (thermoplastic elastomer), flexibly like EPDM (Ethylene propylene serve Manomer), however substantially more steadily against chemical influences. The absorber surface is attached directly to the filter system and needs normally no own pump. Depending upon size of the absorber surface the system extends the bath season or grants also in the winter pleasant bath temperatures.
Calculations :
You need a solar absorber area of 50-100% of the pool surface, depending on:
- the construction and the equipment of the pool (inside or outside, with/without cover, with/without insulation);
- the desire of the client (only extend the swimming season or wishing to swim also during winter);
- the region (temperatures, wind).